Classic 7-Speed - Watermelon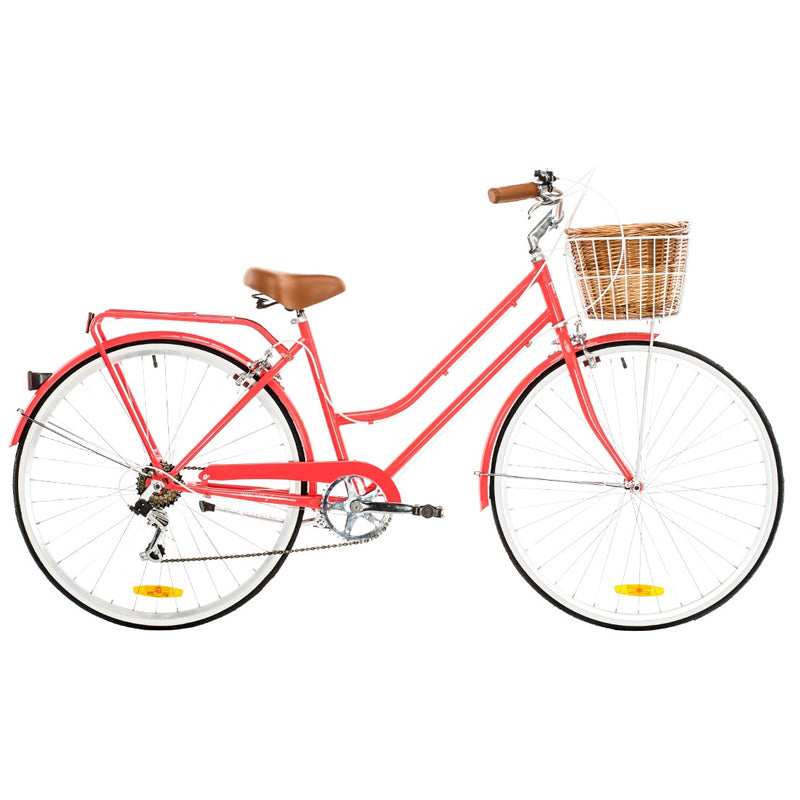 Designer: Reid
The Classic is a modern bicycle that captures a timeless style for an amazing price
Ready to roll, easy to ride and as pretty as a picture, in a range of stunning colors
Polished alloy handlebars for light weight and durable finish
A high quality alloy headset for smooth steering
Includes an alloy kickstand, fenders with stainless steel hardware, and a tubular rear rack
Shimano 7-Speed drivetrain for ease of maintenance and reliability
Promax dual pivot brakes provide plenty of stopping power
Available with a wicker basket (SOLD SEPARATELY)
 When life is experienced on two wheels, we become healthier, more mindful, more focused people. Our Ladies Classic 7-Speed Vintage Bike gives you the platform to do exactly that. Explore your freedom the way you want to, on this essential retro cruising companion. Available in every colour of the rainbow.
Product code: 120001
Sizes: Small - 42cm, Medium - 46cm, Large - 52cm
Features
For the rider with an affinity for retro style, this vintage bike will have you cruising on the weekends and even commuting to work. With Shimano 7-Speed gearing, you'll tackle hills and headwinds with ease. This is modern parts meet timeless design.
The perfect all-rounder the Ladies Classic 7-Speed will take you where you need to go in comfort and style. More remarkably, your choice of attire won't be restricted thanks to the vintage step-through frame. Significantly, this vintage style bike means you'll sit in an upright, ergonomic position as cruising through the countryside enjoying the amazing views.
color may differ slightly from stock image